First Time Buyers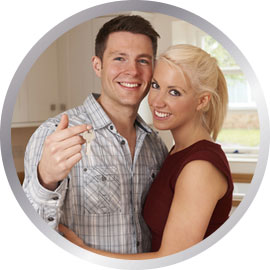 It can be daunting buying your first home; however, see below for certain basic steps that you can take in advance to hopefully, make the process go as smoothly as possible.
Free Independent Mortgage Advice
You pay absolutely nothing to me for mortgage advice. I get paid by the lenders, and this does not affect the mortgage rate that you pay.
I am a completely independent mortgage broker, not tied to any bank or lender, and will search the whole mortgage market to get you a great mortgage deal that suits your individual circumstances.
Contact me to use my expert and free advice if you're looking to buy your first home.
Save as much as possible for a deposit
Well before you actually want to buy a property, you may wish to start regular saving. As a general rule of thumb, the more you can put down as a deposit, the better mortgage deal you will get. For example, if you can put down a deposit of 10% (of the purchase price), you will usually get a lower interest rate mortgage than putting down a lower deposit of 5%.
Keep your credit in good order
It is very important to maintain a good credit record. Missing, or being late on a loan payment, will almost certainly adversely affect your credit rating. Exceeding your current account overdraft limit, or credit card limit, will likely have the same effect. You can check your credit file with Equifax or Experian. (Checking your own credit file has no adverse effect whatsoever on your credit rating, so there is no 'downside' to checking your own credit file)
Make sure you are on the Electoral Roll
Many lenders use automated scoring systems when considering a mortgage or loan application. You can improve your chances of success by making sure you are registered on the Electoral Roll prior to making an application.
Allow for other costs
In addition to saving for a deposit, allow for other costs, such as conveyancing and Stamp Duty Land Tax. You should also allow for valuation or survey costs.
Allow for ongoing costs once you are in your new home
A mortgage is a long-term commitment, and must be comfortably affordable. When calculating how much you can comfortably pay as a monthly mortgage payment, remember to factor in other ongoing costs, such as Council Tax and home insurance, as well as all the other normal living costs; such as food, utilities, telecoms, leisure and transport costs.
As a mortgage is secured against your property, it could be repossessed if you do not keep up the mortgage repayments. The Financial Conduct Authority does not regulate some forms of buy to let mortgage.